Join Us to Make an Impact for Women and Girls
AAUW is a community standing 170,000 strong for gender equity. Your membership makes our powerful voice even louder on critical issues affecting women and girls.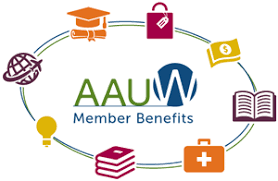 DUES
National – $59.00
State – 12.00
Branch – 12.00
Total – $83.00*
Join online! Click this link to AAUW National. Follow the steps to join or renew. The link for renewing as a Branch Member allows you to pay for National, State, and Branch dues as one payment.