The 13th annual Women of Achievement luncheon benefiting the Bradenton Branch AAUW Scholarship Foundation was held on Saturday, April 6, 2019.  Five outstanding women were recognized for their contributions to our community.   This years honorees:
Janene Amick, Chief Executive Officer, Manatee Performing Arts Center,
Susan Bowie, Executive Director, Manatee Community Foundation,
Adell Erozer, Executive Director, Turning Points,
Shirley Miller, International Consultant on Family Issues,
Amy Wick Mavis, CEO/Executive Director, PACE Center for Girls.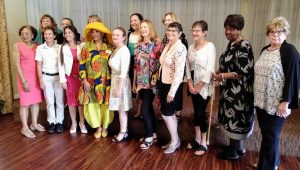 The Women of Achievement Honorees are dedicated to improving the lives of women and children in our Manatee Community – exemplifying what AAUW strives for!  Each of our honorees are shining examples of what women in leadership can accomplish, as they shine their light, providing direction and support in the world around them.  They truly are "Beacons of light" in serving others.